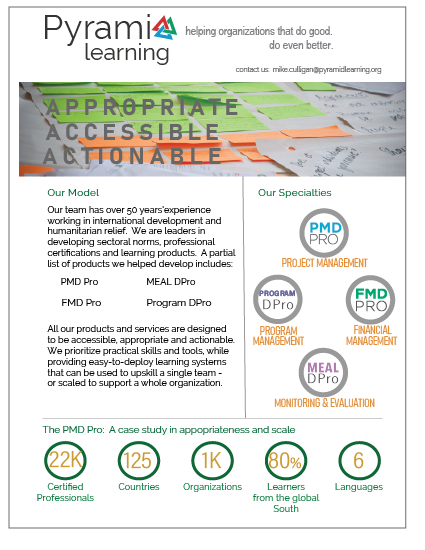 Our team has over 50 years experience working in international development and humanitarian relief.  We are leaders in developing sectoral norms, professional certifications and learning products.  A partial list of products we helped develop includes:
PMD Pro                           MEAL DPro
FMD Pro                           Program DPro
All our products and services are designed to be accessible, appropriate and actionable.  We prioritize practical skills and tools, while providing easy-to-deploy learning systems that can be used to up-skill a single team or scaled to support a whole organization.
Download the Pyramid Learning Prospectus to learn more about how our work has helped organizations and individuals who do good, do even better.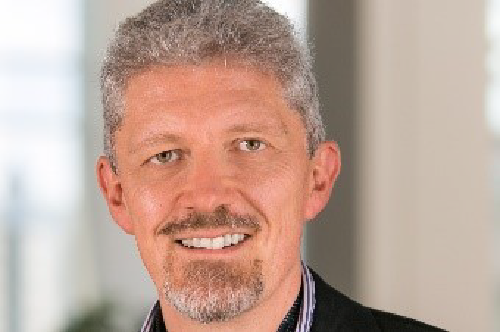 John is passionate about the ability of effective and efficient program management to make the world a better place and he actively looks to collaborate with anyone who shares these goals.
Over the last twenty-five years, he has worked in multiple program roles in NGOs –including positions as Program Director for Oxfam GB in Central America, Mexico and the Caribbean; Global Program Manager for a gender and governance program & running Oxfam's project management systems globally. He helped write PMD Pro. He is Vice-Chair of PM4NGOs and led development of Program DPro.
He has worked on project management capacity building initiatives for more than thirty INGOs, local NGOs, UN agencies, and other development organizations.
John lives in Oxford, England, where he enjoys hobbies that include chess, trail running, historical fencing and gardening.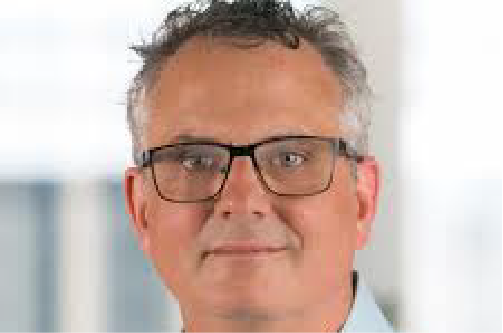 Mike has been developing the capacity of development and relief professionals for over twenty years.  As a founder of LINGOs, PM4NGOs and Last Mile Learning, he has worked with hundreds of non-governmental organizations, developing learning and creating professional certifications for the sector.  As a  lead author of the Guide to the PMD Pro, the Guide to the FMD Pro and the Guide to the MEAL DPro – he has been a thought leader in establishing standards for development and relief professionals.
Equal parts field-based development worker and instructional designer, Mike has extensive experience working for NGOs across the world, including  Central America, Africa, Eastern Europe, Southeast Asia and the Caribbean.  He has developed over 100 eLearning titles, on-line course and workshop curricula.
In his free time, Mike lives in Seattle, where he enjoys the many outdoor activities of the Pacific Northwest.
Let us know how we can help your orga(at)nization do good, better.
Contact us at info(at)pyramidlearning.org